dry skin dream balm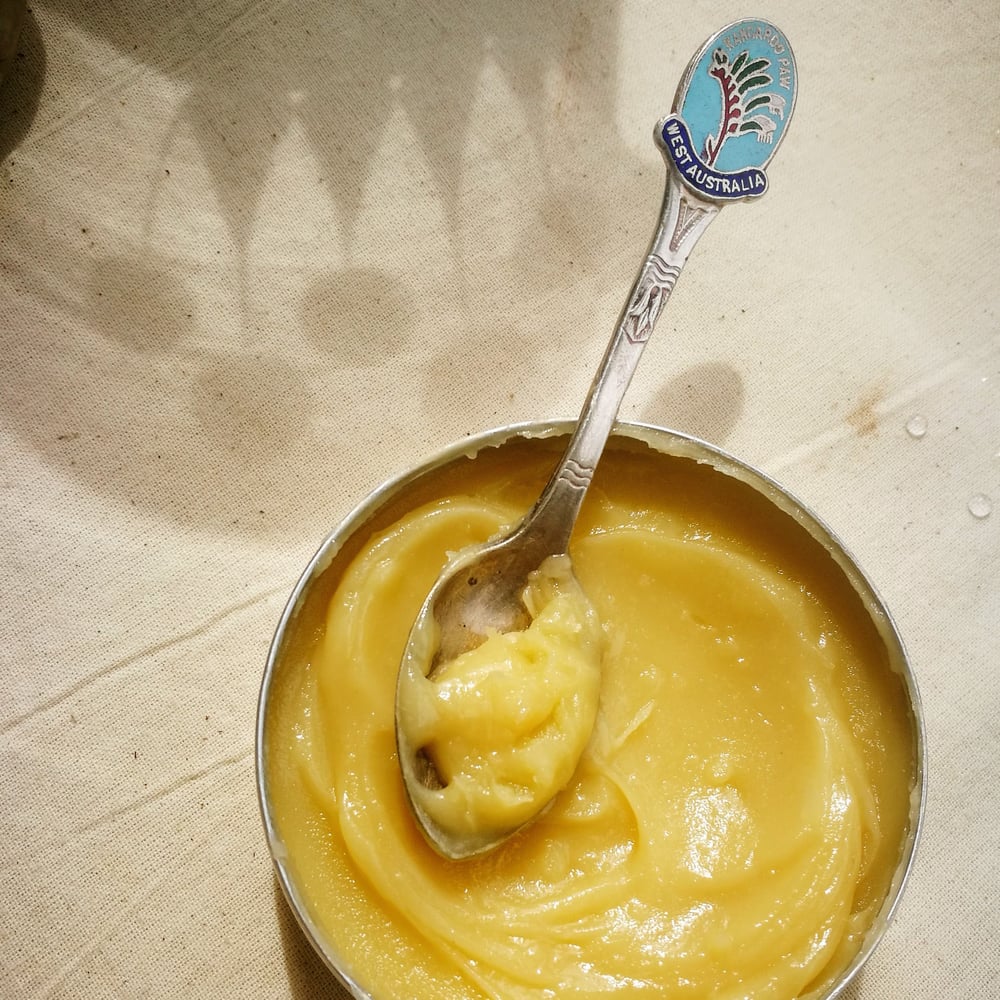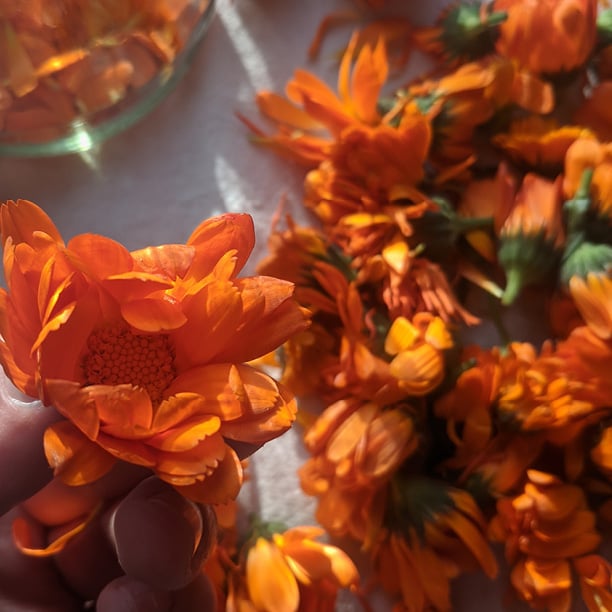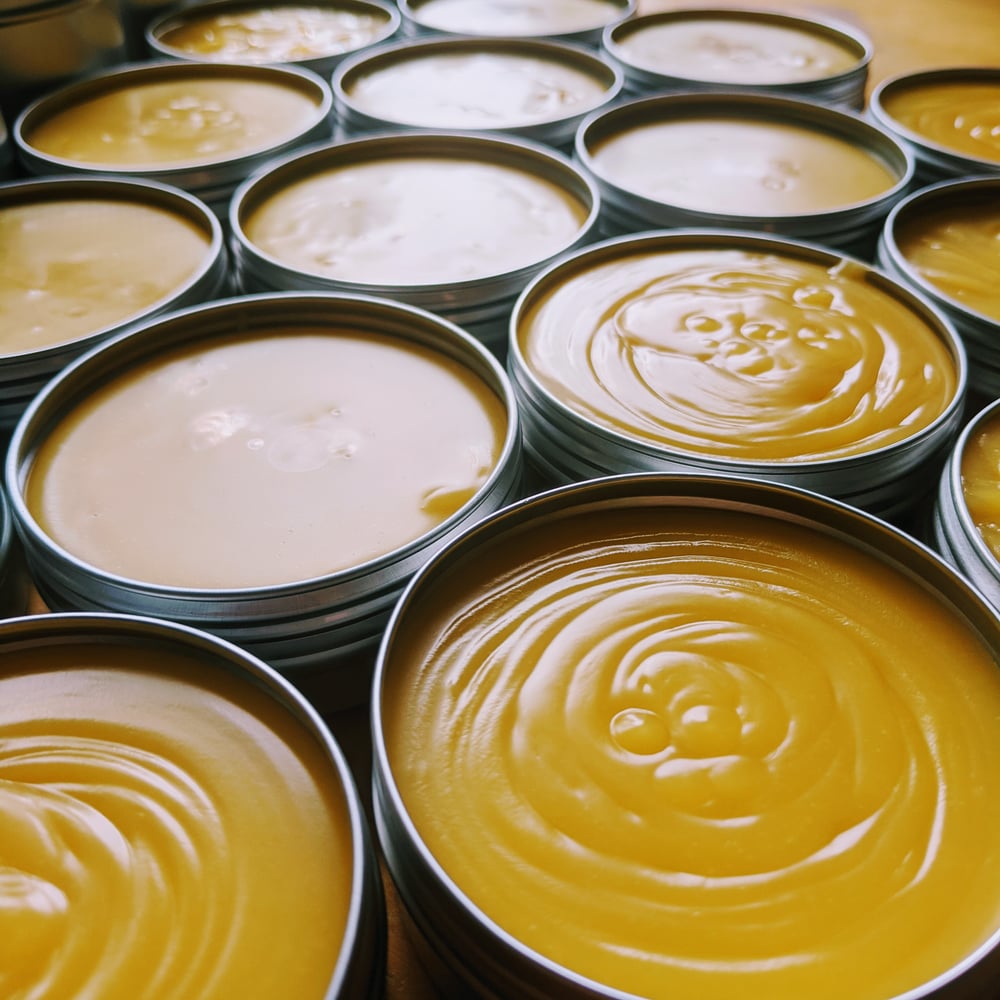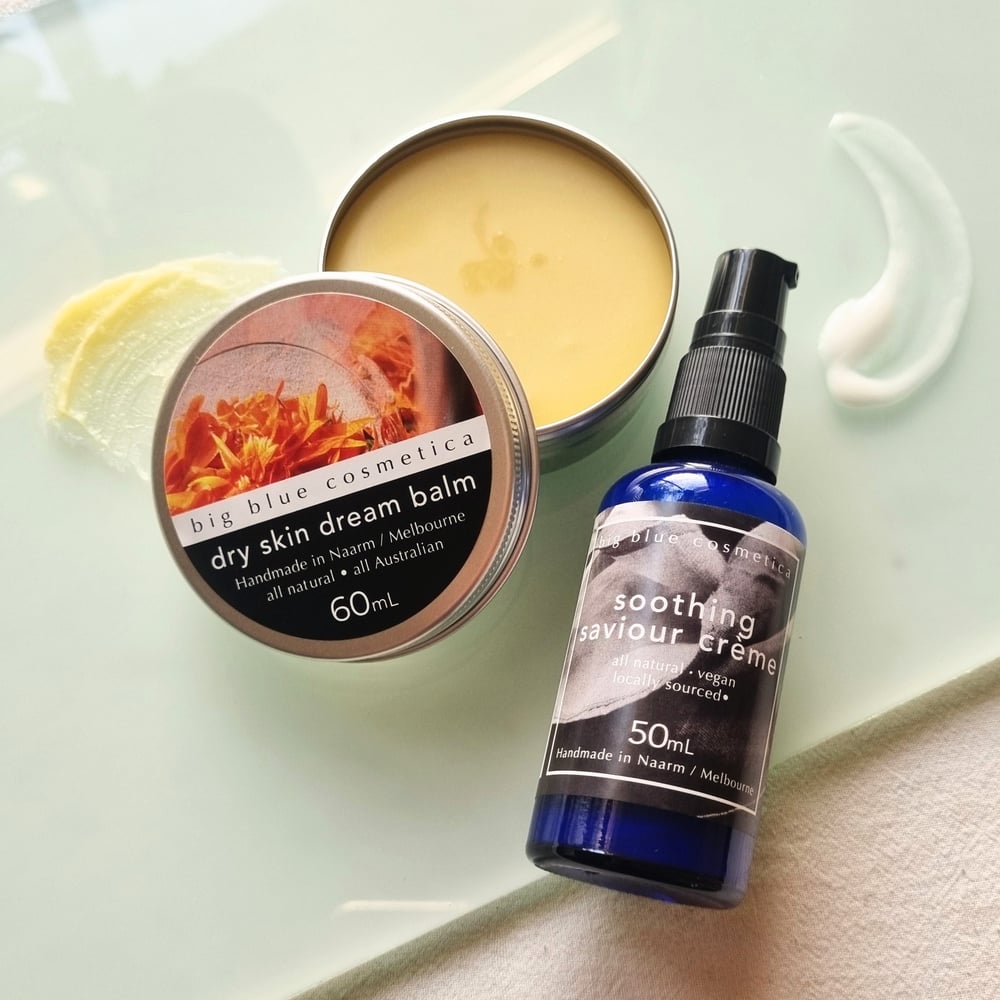 Multi-use, all natural moisturiser with calendula, for dry skin everywhere. Great for sensitive skin, for the whole body and the whole family and especially excellent for hard working hands in need of heavy duty repair. Rich, buttery and soothing.
Organically grown, locally sourced and hand picked calendula (a skin soothing superhero botanical) is infused in a highly nourishing blend of non-comedogenic organic olive, macadamia and sunflower oils, which are naturally rich in Vitamin E, antioxidants, phytosterols and important fatty acids - all vital for promoting skin cell regeneration, preventing premature ageing and helping skin retain moisture and elasticity. Raw, unbleached Victorian beeswax helps soothe and hydrate skin with its natural anti-inflammatory and antibacterial properties, and provides an excellent barrier for reducing TEWL, or trans-epidermal water loss.
The texture is rich but readily absorbed so that a little goes a very long way, and the aroma is subtle but heavenly with just a hint of mandarin, kunzea and lavender essential oils (no more than 0.5%). All natural, all Australian ingredients and all potently nourishing - this beauty is hands down The Best for repairing dry skin.
TO USE:
Use a small amount as often as required wherever you get dry skin. Absolutely gorgeous used as a daily facial moisturiser especially for very dry or sensitive skin - simply wash face with water, rub a tiny amount between hands first then gently massage into face while skin is still damp. Use in the morning for supple, hydrated skin all day long, or before bed for a super nourishing night treatment / eye cream. As with all oils and balms, you'll find it absorbs more readily into damp skin, so perfect for slathering over the whole body straight after a shower or right after washing hands.
BUNDLE + SAVE
Pairs beautifully with the soothing saviour crème, apply this creme first and then layer with a tiny amount of the balm for extra hydrated skin. Buy both for $50 and save $3.
ALL NATURAL
100% AUSTRALIAN INGREDIENTS!
calendula officinalis* infused in macadamia integrifolia seed oil*, olea europaea (olive) fruit oil*, helianthus annuus (sunflower) oil*, cera alba (beeswax), essential oils: citrus reticulata (mandarine), lavendula angustifolia (lavender) & kunzea ambigua (kunzea). *organic.
This is a natural product with a limited shelf life. Please use within 24 months of purchase and store away from direct sun to prolong product life.
Comes in a 60mL aluminium twist top jar with a paper label.
Once empty - KEEP THE TIN! You can return it for a $2 refill discount or alternatively find a way to repurpose or recycle it. Aluminium is infinitely recyclable, and the label is completely biodegradable paper with non-toxic, plant-based inks and adhesives.
Choose the 'dinted is fine!' option if you don't mind a tin that has a few minor dints or scratches. This is a consequence of accepting empties - occasionally we receive tins with some signs of wear, but which are otherwise perfectly functional (and thoroughly cleaned and sterilized before refilling). If you don't mind these aesthetic imperfections, help us reduce packaging waste by selecting this option.
REVIEWS:
'Dream balm is the best cream I ever tried. Amazing. Love your handmade products.' - Aloma
'I've been using the dry skin dream balm and it is the most beautiful lotion. I have the most sensitive skin and I've used it morning and night, it hasn't caused any irritations! This lotion is seriously amazing' - Lily
'Your balm worked like a charm. We bought a small tub recently for my son's eczema and it helped his condition. The redness has subsided and my son is itching less. And yes, the smell is great too!' - Carol
'Tina your dry skin dream balm is saving a sore florists hands!' - Elsa
'I've bought a lot of Tina's products but I think my favourite is the dry skin dream balm. I use it religiously every night before bed, and it's amazing the way it feels so seriously moisturising, but once it's rubbed in, it's barely greasy' - Jo
'This stuff is the bees knees...bonus points for smelling beautiful' - Chloe
'Just wanted to personally let you know how great your products are. I got the dry skin dream balm for my partner, who is a carpet layer, he is very happy with it' - Linda
'I'm a massive fan of the dry skin dream balm, which my family uses for EVERYTHING this winter!' - Heather
'Gorgeous products!! I've just purchased a tinted lip balm and the dry skin dream balm and wow!!! I applied both as soon as I got home it's now late afternoon and usually my skin would be dry and cracking up by now but my lips and skin are supersoft, I can't wait to try more of this range' - Babs
'I bought your dry skin dream balm, I just wanted to say how much I love it!!! I'm usually super sensitive to everything but it is so nice on my skin, I love the smell too!...regretting not buying the bigger size' - Madeleine
'Had super dry skin this morning and used this on my face for the first time. Sunk right in and I feel fresh and glowing' - Jade<\i>