all day deodorant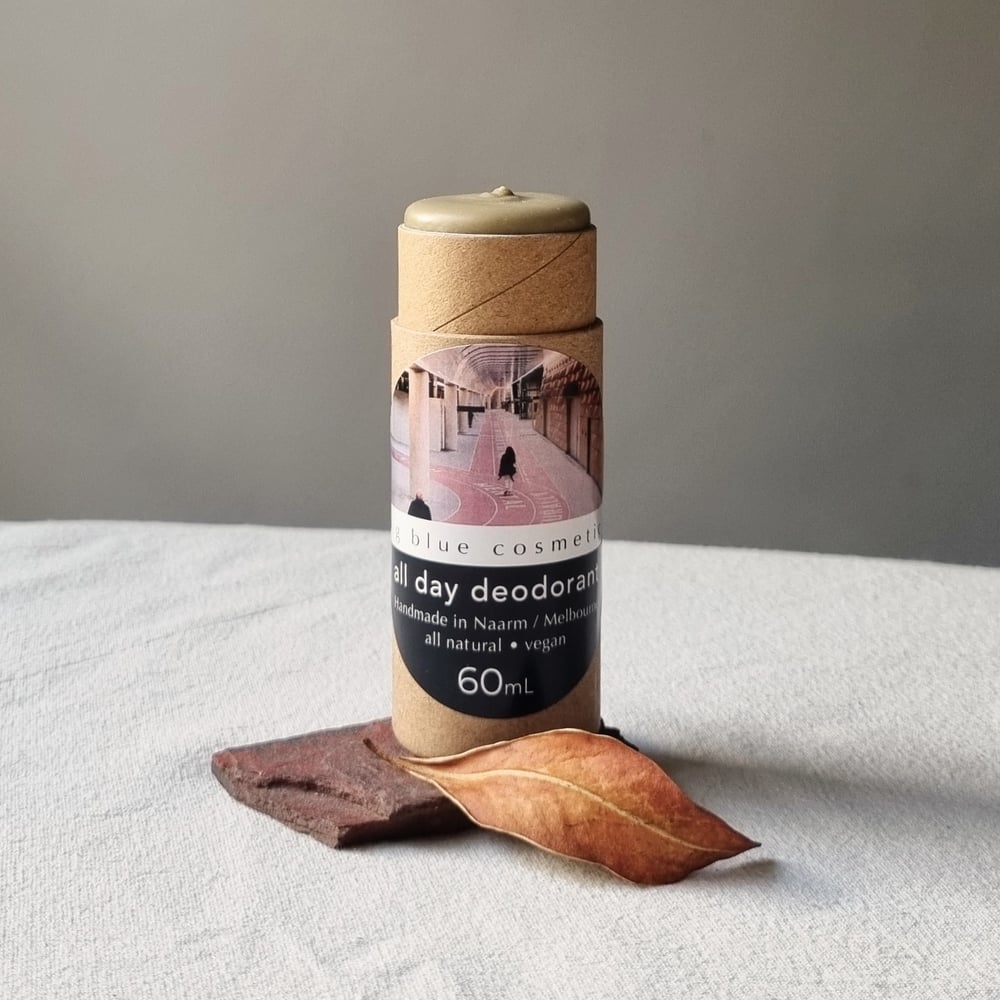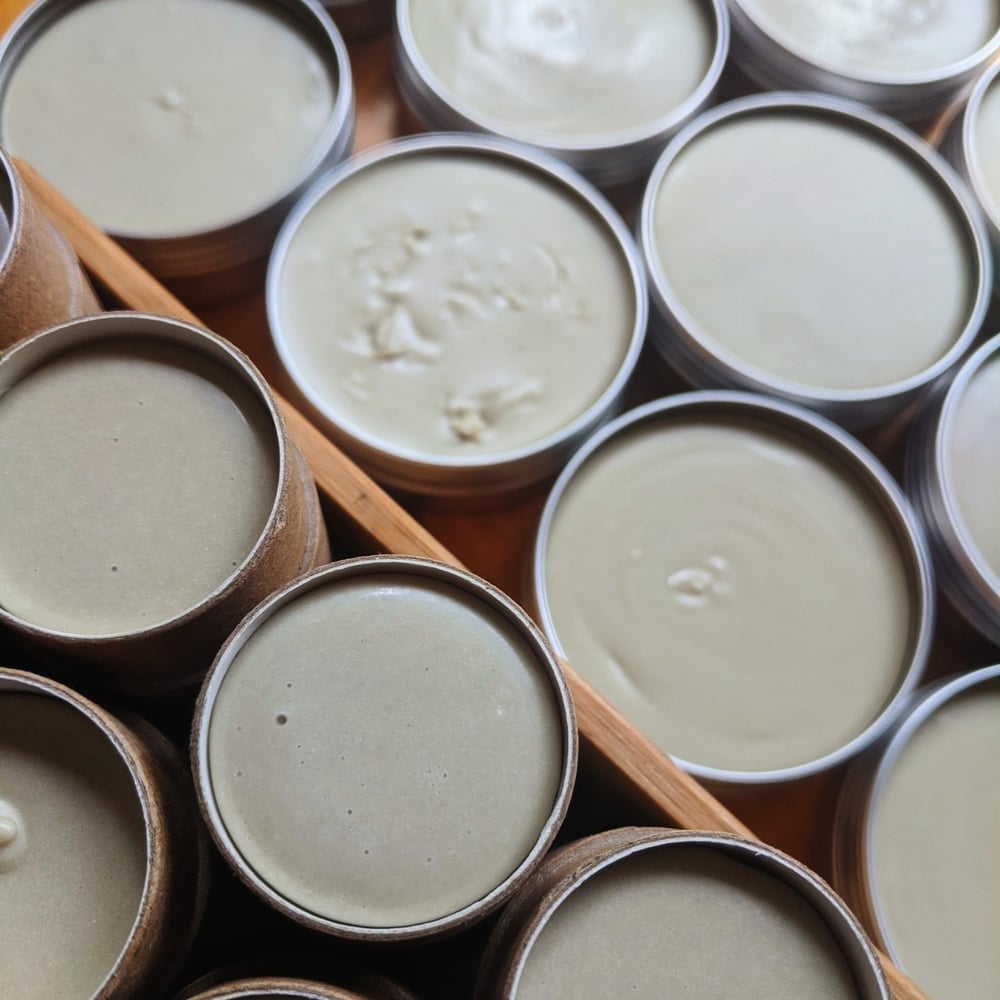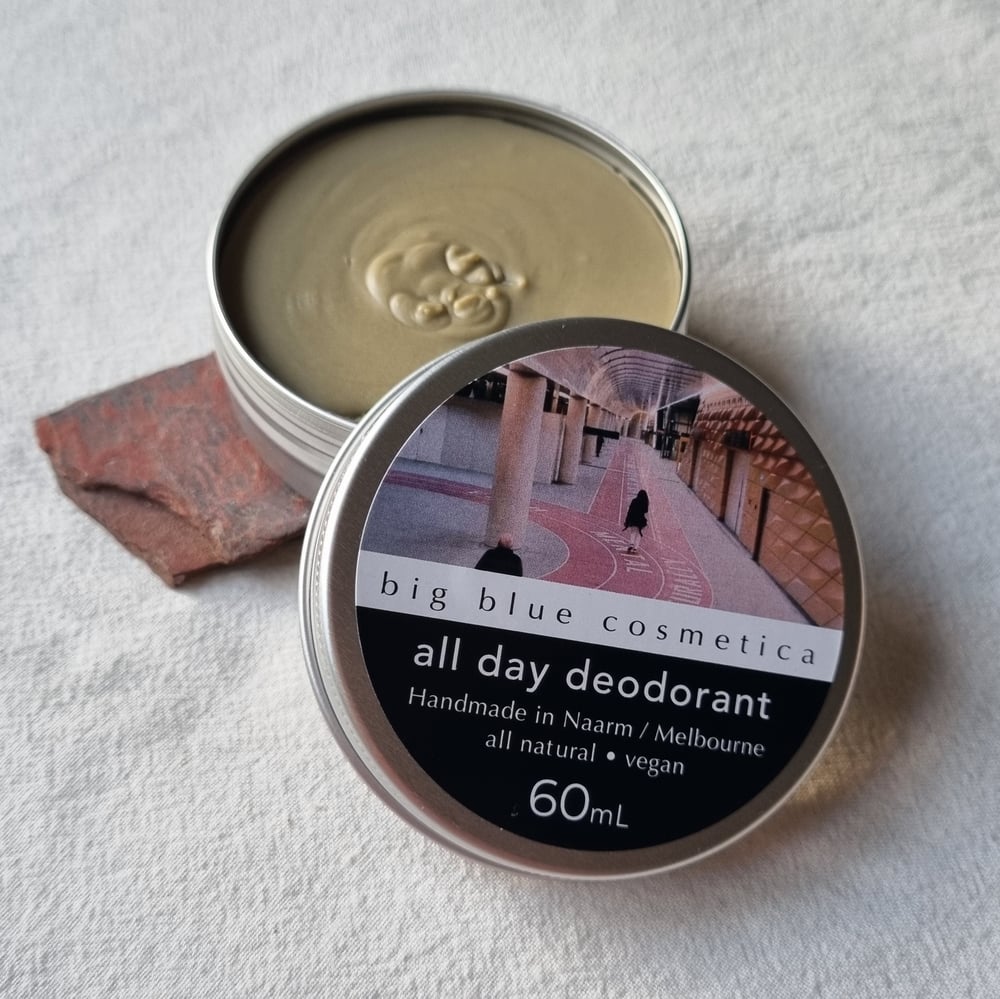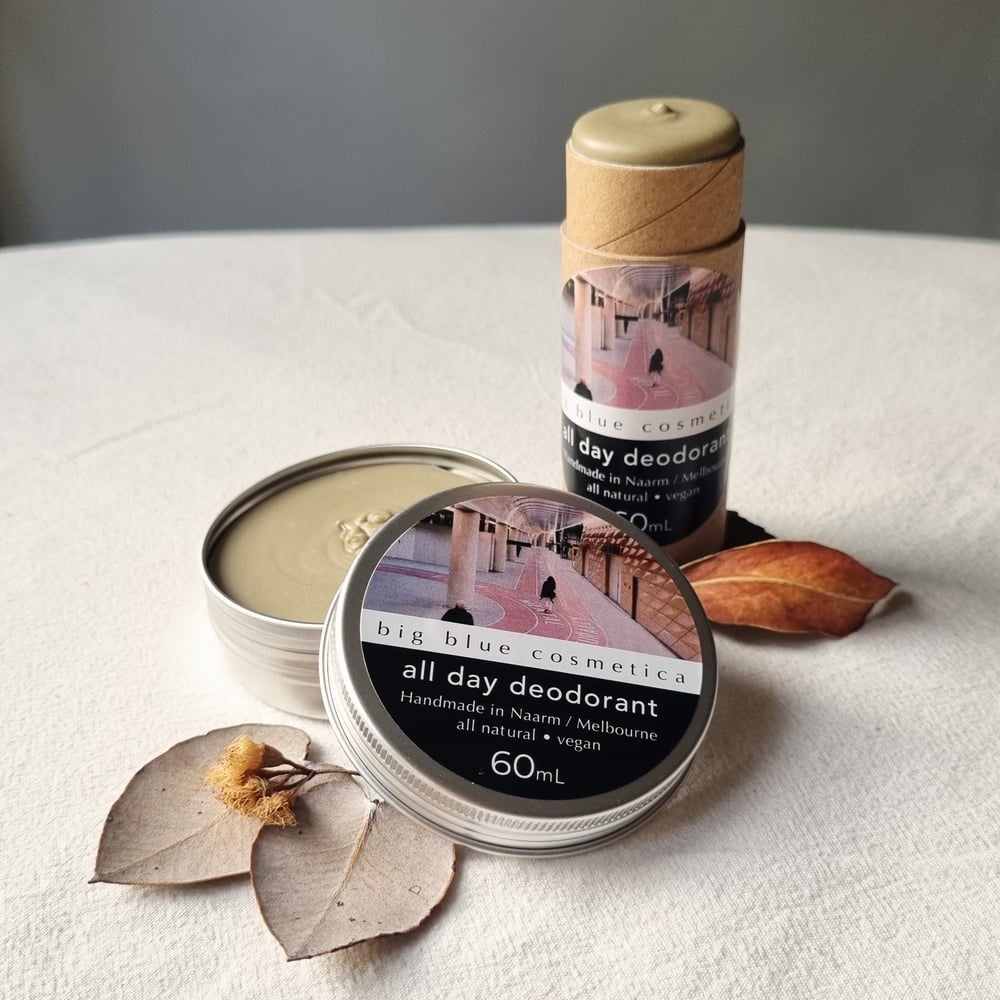 This is the one you've been searching for - The all natural deodorant balm that ACTUALLY works, to help you go forth and conquer!
Rubs in dry and invisible without leaving any oiliness or white powderiness, doesn't stain, works ALL day and smells amazing. Stays smooth and easy to apply through hot and cold weather.
What's in it? Well - this wonder balm is a blend of ultra-absorbent clays and powders which help neutralise body odour and keep you feeling dry, set in a soothing balm base of candelilla wax, sunflower oil and Fair Trade organic Peruvian cocoa butter.
It includes bentonite clay (which gives it the grey/green colour), magnesium powder (the Powerful Pong-killer) and a little bicarb soda - limited to less than 10% of the total formula. Bicarb soda is both an excellent moisture absorbent and has strong bacteria-killing powers which really help this balm work as well as it does, inhibit the bacteria – kill the stench - but too much bicarb is the primary culprit for the skin irritation that some people experience with natural deo balms, and this amount seems to be safe for such people (including us!).
Please note that this balm doesn't contain any toxic sweat-gland blockers (sweating is vital to good health!) so do expect to sweat on especially hot days or while exercising, but your pits should stay drier than if they were sans balm, and smell a whole lot fresher even on those sweaty days.
Scented with an uplifting, unisex blend of natural Australian essential oils including mandarin, rosalina and lemon myrtle - kept to a maximum of 1% so as to not irritate sensitive or freshly shaven pits.
TO USE: Simply rub a little onto your underarms in the morning / after a shower, and let the ingredients do their thing. You may need to experiment with how much to apply - people with hairy pits may find they need to apply more for example, but we recommend starting with a pea sized amount per armpit and see how you go with that.
VEGAN
ALL NATURAL
LOCALLY SOURCED INGREDIENTS*
sodium bentonite, helianthus annuus (sunflower) seed oil, sodium bicarbonate (<10%), euphorbia cerifera (candelilla wax)*, Fair Trade organic Peruvian theobroma cacao (cocoa) seed butter*, magnesium hydroxide, essential oils: citrus reticulata (mandarin), backhousia citriodora (lemon myrtle) and melaleuca ericafolia (rosalina).
*denotes imported ingredient
This is a natural product with a limited shelf life. Please use within 24 months of purchase.
Comes in a 60mL aluminium twist top jar or home compostable paper tube, both with a paper label.
Once empty - KEEP THE TIN! You can return it for a $2 refill discount or alternatively find a way to repurpose or recycle it. Aluminium is infinitely recyclable, and the label is completely biodegradable paper with non-toxic, plant-based inks and adhesives.
Choose the 'dinted is fine!' option if you don't mind a tin that has a few minor dints or scratches. This is a consequence of accepting empties - occasionally we receive tins with some signs of wear, but which are otherwise perfectly functional (and thoroughly cleaned and sterilized before refilling). If you don't mind these aesthetic imperfections, help us reduce packaging waste by selecting this option.
REVIEWS:
'Ok this is amazing stuff. It doesn't irritate my underarms like No Pong sometimes does, it works for 24 hours, and it's a pretty neutral, fresh scent. I feel like even after 24 hours, the smell is not completely unpleasant. It's easy to wash off, doesn't leave a stain on my armpits or my clothes. I've tried a few "natural" brands too, this is my favourite.' - Michelle

'I got the antiperspirant balm and it was *literally* life changing, I've always been a sweaty smelly lil sod and this is legit the first thing that has not only worked, but worked ALL day & night, and smells so natural and beautiful and isn't sickening or overwhelming when you get waves of the freshest scent' - Jadeyn
'Tina! Your deodorant seems a bit smoother and softer - very easy to apply! The main thing is I want to give it 5 stars. I applied it on Wed 6am, 39 hours, 3 flights, 2 stop-overs dragging heavy backpacks, including hotish Bangkok airport later - I do not stink' - Luka
'For anyone looking to make the switch over to natural, toxin-free, sustainable antiperspirant balm that ACTUALLY works, look no further! This stuff is the bees knees and it smells amazing' - Jay
'Your antiperspirant balm is a really great product. It has passed with flying colours. Well done!' - Linda
'My girlfriend and I love this product and would be lost with it!' - Cam
'Thank you for the deodorant balm, I love it! Smells nice, feels really nice texturally and applies really well, and I feel works really well antiperspirant-wise...I just smell of myself I guess, but no sweaty feeling' - Grace
'Hey there! Bought your antiperspirant balm at the Rose St Markets and I love it. I cannot believe something natural is actually working on my sweaty pits. Thanks so much. Keep up the good work' - Gillian
'Since going back to your bar from last market, your shampoo bar is definitely the best I've tried...loving the deodorant too, glides on smoothly which I did not expect.' - Vanessa
'Hi! I bought your antiperspirant balm at the Yarra Glen market last month and just wanted to let you know how much I love it! It's by far the best natural deodorant I have used. I was getting a rash from the other ones I tried but yours is so soothing, smells wonderful, keeps me feeling fresh all day and the texture is perfect. Will be a long term buyer and can't wait to try some of your other products soon. Thank you' - Laura